What are Up-Cycled Products
We organize training for SHGs where they have been trained for basics stitching techniques and various eco-friendly products making from waste clothes. These products include making of bags, door mats, rajai, purses etc.
Poornam promote upcycled products prepared from clothes as cost effective alternative for common man. Stalls are organized along with collection drives or at several exhibitions in Pune.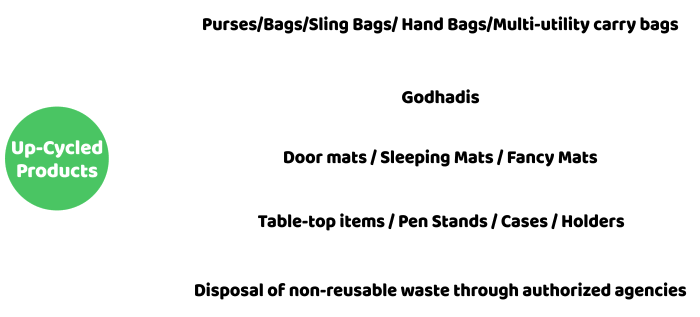 Cloths Collection


Cloths Donation


Training


Promotional Stalls
Indian culture has always been developed in the favor of sustainability of environment, inclusive of 3Rs- Reduce, Reuse, and Recycle. Fabric Up-cycling is Poornam's project which takes this concept to the wider level. Similar to the E-waste and plastic waste, fabric waste- clothes which are not in use are collected at Poornam. Many women Self Help Groups (SHGs) are attached to Poornam for manufacturing of various up-cycled fabric products.